Back in 2003 when then Manchester United manager Sir Alex Ferguson concluded to sign a very young Ronaldo from Portuguese side Sporting Lisbon, while there were people who believed in the talent he possessed, there were others who questioned the move and raised questions like whether he would adapt to the Premier League.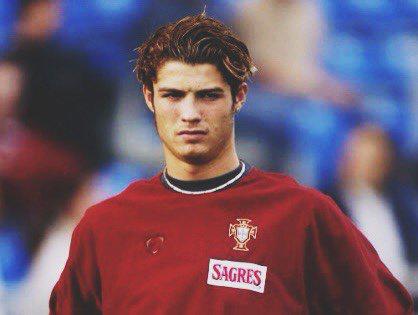 When he finally made his Manchester United debut, Ronaldo showed glimpses of what he is made of and the wealth of talent he had in his armory. He however shoes some slight weaknesses, but Sir Alex chose to look behind those. He was sure of the deal he just concluded.
Ronaldo arrived at United looking skinny and immediately
knew that he would need to add on some muscles if he was going to thrive in England, so he hit the gym. The decision paid off as he built a physique better than what he came with and became a bigger terror to the Premier League defenders then.
He then took possession of the league and in 2008, he not only won the UEFA Champions League under Sir Alex Ferguson but he would go on to win his very first Ballon d'Or award. Ronaldo would then make a switch to Real Madrid in 2009 where he would build a closer rivalry with the previous Ballon d'Or winner Lionel Messi.
Ronaldo was up to the challenge and wanted to make a name for himself at Madrid. With his dedication and determination, he did just that. He left Madrid in 2018 after winning four more Ballon d'Or awards following a hugely successful stint that also saw him win multiple Champions League titles.
He is currently still a Juventus player and has kept smashing records since moving to Italy. There is however one thing that has been said about him by players of the clubs he has played at. They have all said Ronaldo is the first person at training and the last to leave. Ronaldo is already a football great but his continued hunger to better his past self makes him a beast.